TUESDAY, MARCH 19, 2019, 7:00 PM
BROOKS AUDITORIUM, LINCOLN SCHOOLS, BALLFIELD RD, LINCOLN MA
PLEASE CLICK HERE TO BUY DISCOUNTED BOOKS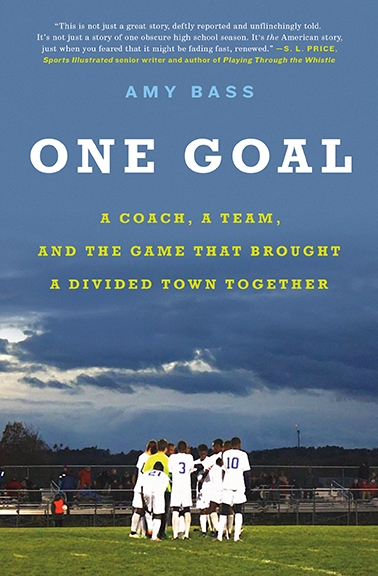 Advance One Goal Book Sale: $10 by March 18
PLEASE CLICK HERE
Books are $15 at the door

Proceeds to benefit the financial aid fund at Birches School
Please click here to donate.
In Lewiston, Maine, where Mike McGraw coaches the Blue Devils soccer team, was an overwhelmingly white community in one of the whitest states in America. Once a thriving mill town of the Industrial Revolution, it had become pockmarked with abandoned factory buildings crumbling into the river and canals. More than half of the city's families with children under five were living at or below the poverty line. In 2001, however, the city's energy changed dramatically as thousands of Somali refugees began to arrive and Lewiston became embroiled in chronic racial tension. Within a decade, the town's non-white population surged more than 800 percent. The city of 36,000 had become home to approximately 7,000 African immigrants; never in modern U.S. history had a town of its size taken in so many newcomers so quickly.
 In ONE GOAL: A Coach, a Team, and the Game That Brought a Divided Town Together, Amy Bass tells the timely and inspiring story of how the longtime Lewiston community and its newly arrived Somali immigrants came together on the soccer field to capture the first state soccer championship in Lewiston history and ultimately chase dreams of national glory. ONE GOAL offers a testament to the power of community and a hope for our times — a story and a message more necessary now than ever.
**NEW IN PAPERBACK AND OPTIONED FOR FILM ADAPTATION BY NETFLIX!**
"The perfect parable for our time.
--- Jane Leavy, The Wall Street Journal
"Amy Bass's book transcends sports and provides encouragement in discouraging times."
--- Bill Littlefield, Boston Globe, Best Books of the Year  
"At a time when America seems consumed by divisiveness and hate, along comes One Goal, a beautiful and important reminder that humanity's strength is its togetherness. Yes, on the surface this is a soccer book. But Amy Bass' work is so much more. It's about overcoming odds, about embracing differences, about the triumph of will and spirit. A true gem of a book."
       --- Jeff Pearlman, New York Times bestselling author of The Bad Guys Won and Gunslinger