Referees and potential referees... Welcome to refereeing in Lincoln!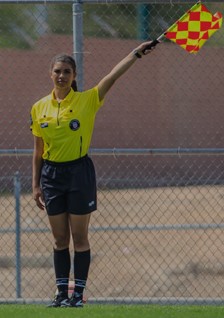 Become certified:
If you are interested in becoming a referee you must be at least 14 years old at the time of taking the "New Grassroots Referee Entry Level" course. (https://central.massref.net/courseofferings.cfm).  
Register:
Once you get your certification, register on Bays.org making certain to "apply to towns" enter Lincoln. You should also contact the referee assignor at the email address below to formally register in Lincoln.  
Uniform:
A uniform consists of a yellow ref shirt (usually short sleeves), black shorts, black knee high socks, red/yellow card packet, whistle, watch with timer, and flags. Uniforms can be purchased on line, or at Soccer Stuff in Acton, or Tricon Sports in Lexington.
Current payrates: 
LYS/ BAYS pays refs 2 or 3 times per season.  BAYS will require direct deposit information into a bank account.  LYS will send a check mailed directly to your home. These referee fees are set by the BAYS League and in 2021 range from $20-55 per game depending on ref position (center or assistant) and level of game being covered.  See: https://bays.org/content/referee-payment-information
If you have any further questions, please e-mail the referee assignor at [email protected].