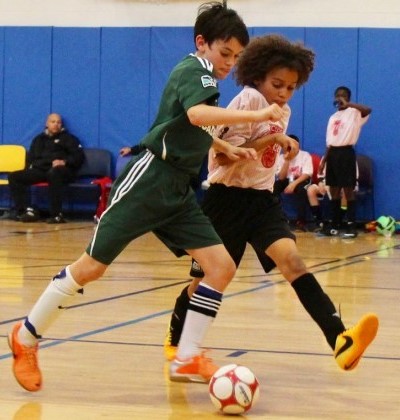 Indoor Futsal
Who: K-8 grades
What: Looking for a fun, team activity this winter to improve your soccer skills and play as a team? Come join us for Futsal games! Games will be held inside the gym and will run for 9 weeks. Sunday sessions will consist primarily of Futsal games with a brief warm-up and development session at the beginning of the session led by the coaches. The focus for these sessions will build on the player development while promoting teamwork. Sessions will be mixed boys/girls and are open to players of any skill level from beginner up. There is no registration fee for skills, however space is limited and you must register to reserve your spot Masks must be worn inside.
Where: Brooks gym
When:
Grades K-1: Sundays (12/12-3/6) 4-5pm
Grades 2-3: Sundays (12/12-3/6) 4-5pm
Grades 4-5: Sundays (12/12-3/6) 5-6pm
Grades 6-8: Sundays (12/12-3/6) 5-6pm
Fee: Free
What is Futsal?
Futsal is played on a basketball court, however it can also be played on a variety of surfaces. The sport is a great skill developer, demanding quick reflexes, fast thinking, and pin-point passing. It is an exciting game suitable for children as well as adults. Futsal is also very economical and safe. Today's Futsal stars such as Ronaldo, Denilson, Roberto Carlos and even stars of yesterday like the great Pele, and Zico grew up playing Futsal as kids and credit the game with developing their individual flair and skills.
Futsal, Futbol Sala, indoor football and five-a-side soccer was developed to be played on a basketball sized court. The special feature of the game is the unique properties of the ball, which has a low rebound. The game develops close individual ball skills as the court is small and players are forced into limited space & option scenarios. The success of the Confederation of Brazilian Football can be attributed to the prominent use of Futsal in the development of it's junior players. During games, players receive more touches and are constantly placed in demanding decision making, limited space situations that they would face on a greatly reduced scale playing 11-a side outdoor soccer only. As such almost all of the Brazilian soccer superstars like Ronaldo, Denilson, and Roberto Carlos developed their phenomenal skills playing Futsal as juniors.